By: Morgan Urtso
When I spoke to Paul "Theo" Theodore about his fitness ambitions for this year, I was blown away.
He plans to break into the top 50 of this year's Chicago Men's Health Urbanathlon and to run a 5k in 18 minutes. Both feats would be firsts for Theodore. His third goal, however, goes beyond the scope of a personal best. He's chasing a worldwide record. Paul Theodore is training to break the world record for the most pull-ups in 24 hours.
4,025
That's the number to beat.
Growing up as a competitive wrestler, Theo learned at a young age how to push past his perceived limitations. He's maintained that mentality into adulthood, running six marathons in two years, training for obstacle races, working as a fitness trainer and chasing world records. He's a fitness challenge conqueror.
Conquering takes training. Training takes commitment. And commitment takes time. Applying the same concepts he used for marathon training, with gradual and steady progression, Theo devoted 12 weeks to training for thousands of pull-ups.
The pull-up record, set by David Goggins on Jan. 20 is 1, 524 more than Theo clocked during his most recent attempt to break the record this year. He did 2,501 pull-ups, stopping short at 15 and a half hours.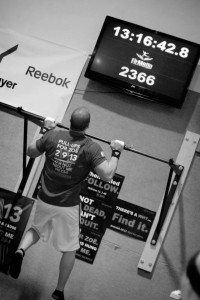 "By then I was moving so slow that we knew the record wouldn't be broken, but possibly my shoulder would," Theo said. Complications he hadn't experienced while training for the attempt arose at about 700 reps.
"My hands began to blister up… my mind was distracted, I neglected to fuel up properly with food." By 1,300 reps, his tightening shoulders and biceps hardened. He was overcompensating, and his lack of nutrition amplified the pain. Theo battled nausea and fatigue, and by the time he was able to refocus his mind and gradually regain energy, the lactic acid took over and he was done.
But the story doesn't end there. In fact, that wasn't even the beginning.
Theo is the owner and fitness coach of Fit Me Up Fitness in Westlake, Ohio, a youth and adult training program based on a simple, deep-rooted philosophy:
"IT'S NOT ABOUT US."
Theo explained, "We train for those who can't. For those who need us. For something greater than ourselves." He emphasized how meaningful fitness can be when there's a profound purpose behind it. Theo proudly referred to his career as his true calling, grounded in the belief that "it's not about us."
That very principal laid the foundation for Theo's world record pursuit. A pursuit he labeled "Pull-Ups for Zoe."
Take a trip to Unit 5 at Rainbow Babies and Children's Hospital in Cleveland and you might find Zoe Watterson. Zoe is a 17-year-old with cystic fibrosis, a rare and chronic disease that, according to the CF Foundation, affects the digestive tract and lungs of nearly 30,000 children in the United States.
Cystic fibrosis leaves afflicted patients with life-threatening lung infections, pancreatic issues, persistent coughing, wheezing and shortness of breath among countless other issues. The life expectancy for someone diagnosed with cystic fibrosis is mid-to-late 30's, according to the CF Foundation.
Theo told me Zoe's story…
"Zoe has to take 52 pills a day, complete vest and nebulizer treatments daily, and is typically admitted to the hospital multiple times throughout the year for three to four weeks at a time… She looks around. The hospital floor she resides on is not very comfortable or pleasant. She considers the effects this has on one's recovery. If the kids in her unit were in a colorful, up-to-date, cozy environment, they would be happier, healthier, and recover stronger.
She starts to dream big. She begins to ask questions. She takes action. Soon the 'Make A Wish Foundation' walks through her doors. Sitting in front of them, Zoe could have asked for a trip to Disney World. She could have requested tickets to the next Justin Bieber concert. She could have begged for the newest iPhone and iPad. But instead she wished to renovate RBC 5 to make it a more pleasurable environment for all the children that regularly stay there."
"Zoe puts other people before herself," Theo said. "She gets what this life is all about."
Pull-ups, meet purpose.
Theo knew the record was something he wanted to chase, but doing it for himself – for the fame of it – wasn't enough. It wasn't about him. It was about Zoe. On Saturday, Feb. 9, Theo set out on a mission to break the world record for the most pull-ups in 24 hours while raising money to make Zoe's dream a reality.
"A new world record may not have been set, but a legacy for Zoe Watterson and serving others was," Theo said. "Our mission was accomplished." Pull-Ups for Zoe was a success. Attended by over 400 people, the community rallied together in support, raising $29,000 that will go straight to RBC 5 in honor of Zoe's wish.
2,497 pull-ups down, the highlight of Theo's experience was yet to come.
"Zoe jumped up on the bar to do the last four reps with me. It was a perfect ending to a perfect night."
Theo believes in the importance of purpose behind the physical challenges he's confronted. He described Pull-Ups for Zoe not only as a cause he believes in, but a platform to inspire others, saying, "To put one foot in front of the other and just take that first step regardless of the outcome. Put fear aside… Just try, that's all you are required in life. You can use any gift, talent or ability that you've been given. You can use your strength to serve."
Deeply grounded in his faith, Theo sees doubters as motivation, not to prove them wrong, but to inspire them. He sees pressure as incentive to maintain focus and faith. He sees insecurity as an opportunity to grow and learn self-worth.
"I'm not concerned about being in the record books, but I know it will only help me become a better athlete, coach and person, to apply everything I learned and fight through another attempt." Theo said. Even if he doesn't succeed, "At least I tried. God called. I followed."
Theo's story still doesn't end there. A second attempt is in the works for the end of this summer, but the circumstances have yet to be determined. Will it be an "official" record-breaking attempt, one dedicated in further support of Zoe and cystic fibrosis? Or will it come down to Theo battling the bar for his own redemption?
Among many unanswered questions, Paul Theodore provided a clear answer for perhaps the biggest question of all: There really is a method to the madness. Theo calls it purpose.