By: Sarah McWilliams
Angela Beeler, a speech-language pathologist for grades k-8 in Boulder, CO, has been athletic all her life. It wasn't until she was older that running grabbed hold of her psyche – and it hasn't let go since. In high school, Beeler competed in tennis, basketball and track, competing at the state level in both tennis and track and earning two track state championships along the way.
Beeler went on to play Tennis at the collegiate level and after her career ended, she continued running to stay healthy and fit. After completing a few 5ks, she moved up to 10ks and eventually ran her first half marathon, a transformational milestone in her journey as an everyday athlete.
After completing the half marathon with energy left over, Beeler's roommate congratulated her, saying her fast finish and extra energy came as no surprise. "That indirect
compliment, turns out, was all I needed," Beeler said. "Having a good friend see something in me finally made me believe in myself to keep going and improving."
Beeler has competed in over 15 5ks. She has also competed in three Bolder Boulder 10ks, a race featuring a number of professional runners. "I always love how the fast Kenyans and Ethiopians run like it's their 'walk,'" Beeler said. She also competed in the Yeti Chase 10k, where she ran her personal best.
To date, Beeler has competed in four half marathons and two marathons. The Nike Women's Marathon in San Fransisco, CA and the BMO Vancouver Marathon in Vancouver, Canada were both life changing experiences for the endurance athlete.
"We ran by both the Bay and Golden Gate bridges, through Fisherman's Wharf and finished by the ocean," Beeler said. "Mind-blowing for a small-town Midwest girl!"
Beeler's routine doesn't just include running. "Running is my favorite exercise, but I never do it more than three times per week," Beeler explained. On the other days, she stays active by hiking, taking fitness classes, playing tennis and trying new exercise routines from her fitness magazine every month. "It's very motivating," said Beeler. She also works in lifting sessions twice every week to help tone and build her running endurance. Beeler joked, "It also helps with tank-top season."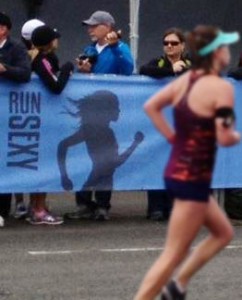 She also focuses on maintaining healthy eating habits to complement her lifestyle, following a strict diet 80 percent of the time while making sure she incorporates nutritional components into all of her meals. Beeler found that the more nutritional foods she incorporates, the more she craves them. With the other 20 percent, which she admits should probably be closer to 10, she enjoys cocktails with friends, brew tours, ice cream shops, and chips and salsa. Beeler prides herself on not having any dietary restrictions. "It makes me happy," she added.
Living a healthy and active lifestyle is not always easy, especially with a full-time job, so that encourages Beeler to make training a part of her daily schedule and her social life. During her week, she trains four days for 45 minutes to an hour. "It's a manageable amount of time," Beeler said.
She noted a few strategies that have boded well for her:
• Pack a bag for the gym so I'll go right after work
• Schedule active dates with my boyfriend or girlfriends
• Add the workout into the phone calendar… this helps with accountability
Beeler has bad days like anyone else. She acknowledges that the first five minutes tend to be the biggest struggle when she's having a hard time finding motivation. Beeler has found that after enduring the first five minutes of tightness, fatigue and distracted lazy thoughts, she starts to break a sweat and her mood lifts, leading to a more positive mindset toward the workout.
On her bad days she tells herself, "I can do anything for five minutes, then reassess if I want to stop or keep going for the day." Safe to say, she's never chosen to stop.
Beeler has two main goals for her athletic future:
1. Run more races with friends, which is always more fun.
2. Only run one race per year for a competitive time.
"I don't want to form a 'hate' relationship with my favorite hobby, so I promised myself to stay balanced."
Beeler incorporates fun runs into her races. This July she will be running a night race in Colorado Springs with glow bracelets, headbands, necklaces, and face paint.
Although she likes to have fun, she takes her competitive races seriously. "My fastest marathon was in San Francisco, but I'd really like to shave off six minutes to be a Boston qualifier," Beeler said. Although six minutes is a tough feat, she searches out this type of motivation to help her excel in her running regimen.
She finds further motivation in the positive results she is rewarded in all major areas of her life: physical, emotional, intellectual, as well as spiritual.
"Right now I feel great, I'm happy, I have energy to work, and it provides an opportunity to reflect on challenges, problem solve and remember all my gratitudes."