By: Morgan Urtso
Forget your preconceived notions. Strength training is not exclusively for elite athletes and fitness fanatics. It's not just for men. No, ladies, it won't turn you into a muscle-bound body builder. It won't raise your blood pressure.  It's not a taxing time commitment. And, most importantly:
It's no longer an option.
It's essential.
Strength training, or resistance training as ATLX Expert Robb Rogers calls it, is the use of weight –both external and simple bodyweight– and resistance to stimulate contraction of the muscles, building strength, burning fat, and increasing anaerobic endurance.
Basically, it kicks your butt into shape.
Vanity aside, Rogers says resistance training is a proven means of promoting internal health and releasing endorphins. As a result, it expands both length and quality of life.
In women, a lack of strength training can lead to osteoporosis. In men, resistance training can drastically diminish the rate of muscle
mass loss, inevitable to most men by age 40. And because intense training increases growth hormone and testosterone levels, the absence of it will have adverse effects, exacerbating the male body's natural decrease in production of those biochemicals as he ages.
"That's why you see really old men and women together, and the woman is making all the decisions now because she's got more testosterone and now she's the boss!" Rogers jokes. In all seriousness, strength and resistance training is crucial to maintaining and extending physical health. It creates long-term sustainability.
So why, according to the 2008-10 National Health Information Survey of 76,669 people, do 73.5% of Americans avoid it like the plague?
It might be the intimidation factor. The term "strength training" comes with misconceptions about intent, commitment, experience and purpose. Rogers uses "resistance training" as an alternate, consciously working to encourage people rather than alienate them.
It could be a lack of awareness; the assumption that resistance training will glare them in the eye, scowling, and say, "It's too late for you. You missed the boat. Good luck!"
Or maybe it's laziness. Just another bad habit. The study by the Centers for Disease Control and Prevention found avoidance of strength training to be more prevalent than other unhealthy habits like consuming excessive alcohol, smoking cigarettes and skimping on sleep.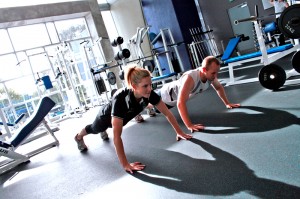 Whichever way you slice it, ATLX Expert Dr. Chad Moreau says the long-term benefits far exceed the excuses.
"As we age, our lean body mass has a tendency to decrease. As a result, we lose overall strength. Decreased strength can make normal activities of daily living such as getting in and out of a chair or vehicle difficult," Moreau says. "One of the most significant issues with decreasing body strength is the associated loss in balance that can result. Maintaining a strength training program can decrease the effects of the natural process of aging on lean body mass."
Resistance training, as a method of delaying the inevitable effects of aging, is simply misunderstood by the masses. The related fitness benefits of strength training reach far and wide, from arthritis relief and heart health, to improved glucose control and prevention of diabetes, to solutions for depression, obesity and back pain.
Plus, it makes you strong and awesome.
Rogers, a long time strength and conditioning coach, recommends bodyweight training like yoga as a gateway to resistance training, noting the importance of focusing on static strength, stretching and stabilization for a novice of any age — especially as opposed to the explosive training of Crossfit and programs like P90X® and Insanity.
"It's never too late," Rogers stresses. "Either use it or lose it… if you don't bend, rotate and extend, you'll end up curled up in a fetal position."
So, 73.5% of America, you can either leave this world as you came into it, or you can go for the great escape, fighting, fearless and fit. The choice is yours.
Now drop and gimme 20!
Want more ATLX exclusives? Follow us on Twitter and like us on Facebook.