By: Aaron Fischman
When retired NFL quarterback Brett Favre recently told Matt Lauer of The Today Show that if he had a son, he'd "be real leery of him playing football," it naturally struck a chord with many who watched the same man play a record 321 straight games through all sorts of injuries. In October, he admitted to suffering serious memory loss, likely as a result of the repeated blows to the head he endured as a player.
Sadly, such a disclosure is not all that surprising anymore, as a national dialogue centered around sports-induced head trauma has picked up serious steam in recent years.
"I think the NFL's sort of like a big beacon," said Neil Chasan, whose Bellevue-based (Wash.) physical therapy clinic operates a concussion management program that works with youth football players and aspiring rugby Olympians, as well as athletes from other sports. "It's (the NFL) shining a big bright light on concussion at the moment. And I do believe that it's raised people's awareness."
Pop Warner, the nation's largest youth football league, suffered a 9.5 percent drop in participation between 2010-12, as reported by ESPN's Outside the Lines last month. Although some of the decline in membership can be attributed to an increase in children specializing in a single sport, the drop is believed to be the biggest two-year decline since Pop Warner began recording such data decades ago.
"Once mothers realize that their children are susceptible to permanent brain damage playing football, they generally choose to put their kids in other sports," added Chasan.
ATLX Expert Dr. Paul Stricker, who practices medicine at the Scripps Clinic in San Diego, Calif., and has become a trusted medical voice on youth athletics, has witnessed a similar increased level of awareness among parents in recent years.
"I don't know that I've seen a lot of parents saying, 'Absolutely, I won't put my kid in football or some of these sports,' but I do get more questions about concussions and head injuries and potential protective gear than I've ever had before," said Stricker. "So I think people are at least on the alert, they're thinking about it more (and) they're realizing that, 'Hey, it's not just a badge of courage to get a concussion or to have a sports injury; some of these things really matter for your future.'"
A segment of American football fans believe that the sport it most closely cherishes is under attack.
As football is far and away the most popular of the "contact" sports in the United States, it naturally garners the greatest attention with regard to concussion and player safety. That said, it's far from the only sport in which youth athletes and parents should pay close attention to the concussion issue.
"Believe me, I'm not singling out any sport," Stricker clarified. "We have to remember that there's still high concussion rates in ice hockey, in cheerleading and women's lacrosse – because they don't have to wear helmets. We don't want people to feel like (football's) the only sport that concussions are an issue, because it's certainly not."
A few years ago, Chasan attended a workshop at the Olympic Training Center where he was surprised to learn that of all "non-contact" sports, synchronized swimming ranked no. 1 in number of concussions. Given the swimmers' close proximity to one another, coupled with their rapid movements, it turns out there are far more concussions than one would ever expect.
For the 2013 season, Chasan's clinic began working with the Eastlake Youth Football Club in helping the league better conform to the state of Washington's Lystedt Law. Signed into law in 2009, the law is regarded as one of the most comprehensive return-to-play laws in the United States for athletes under the age of 18. It stipulates that players suspected of sustaining a concussion or head injury must be removed from play.
Chasan's team has provided the league with the King-Devick Test, a reading assessment tool that they've taught the coaches to use. Essentially, the King-Devick tool allows the coaches to compare a player's typical brain function – as each player is baseline-tested before the season – with the player's function directly after a suspected concussion.
Although a Dynavision D2 can technically function in the absence of a baseline test according to Chasan, he explained that not having a baseline test delays the recovery process "because you have to wait to establish change to know if their (perceived) improvement reflects improvement" or if it's merely a result of their actual brain function.
By the end of October, the new protocol brought in two players who were suspected of a concussion. One was indeed diagnosed with a concussion; the other was not.
"In both cases, the player was appropriately removed from the field of play as a consequence of the work that we had done, so we might have saved that child from a devastating injury," said Chasan.
Concussion management has come a long way in recent years. When Chasan's clinc, the Sports Reaction Center, first began treating concussions six years ago, the SCAT (Sideline Concussion Assessment Tool) 2 was used, and that's it.
Now, the clinic employs a broad range of tools, including Dynavision's D2 (reaction time and cognitive measurement), ImPACT testing (neurocognitive scanning) and gate imprints (gate function). Last but certainly not least, the clinic also "use(s) a strategy that was developed by the trainers who work for the Chicago Blackhawks to do some high-intensity testing before we return a player to play."
Fortunately, all but two states have adopted some form of return-to-play legislation. While such protocol is key, it's not the only integral part of the equation.
"These kids need not only physical rest, but they need intellectual rest," emphasized Stricker. "And now with all the technology and the videos and the iPads and the computers and the phones and the texting, that's still hard brain work. It's important for them to reduce their screen time."
Stricker will routinely send doctor's notes to the schools, while also discussing the situation with the parent and the child in the room. Discussing the issue with both parties present "makes a difference," he argues, "because then they're hearing from us and thinking, 'Hey, this is not to punish you; this is a way to help your brain recover so that you can get back to your sports.' That way, there's not stress at home."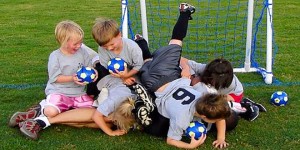 As with many other important issues, terminology greatly affects how concussions are perceived, according to Stricker. That is why he's working on changing the conversation.
"Minor traumatic brain injury is really what we're talking about here," he said. "And if a parent hears that their child has a minor traumatic brain injury, they're going to get really serious and want to take care of their child. And yet if they say it's a concussion, sometimes we get the attitude of, 'Yeah, it's just a concussion.'"
Although children, typically very resilient, tend to heal much faster than adults, their brain recovery after experiencing a trauma actually follows the opposite pattern, according to Stricker. Specifically, he notes that a first concussion takes kids a lot longer to heal and also puts them at "much greater risk for a second concussion."
Given what many parents now know, it's understandable that some would rather their kids avoid the more dangerous sports. But for the countless parents whose kids will participate in a sport with a risk of concussion – and nearly all sports involve some level of risk – awareness is paramount. And it's not just the parents; coaches should be educated on the issue, and so should the referees and players, themselves.