By: Sarah McWilliams
May 22, 2013
Thanksgiving feasts, Christmas dinners, Memorial Day barbecues. Doesn't it seem like just as your diet is on course, a major holiday sets you back? We've all been there. Our diet or healthy lifestyle is great, and then one holiday derails the whole thing. But this Memorial Day, you can enjoy good food without damaging your diet. Here are some great, healthy recipes for this year's barbecue.
Turkey Gorgonzola burgers
Most people groan when they hear turkey burgers because of their bland flavor. This recipe gives the boring turkey burger a fun makeover with plenty of flavor with a lot less fat than your traditional burger.
Ingredients
1 lb lean ground turkey
3 oz Gorgonzola cheese, chopped
1/2 cup sun-dried tomatoes, drained and chopped
2 cloves garlic, minced
2 tsp cumin powder
2 tsp vegetable oil
6 100% whole-grain buns
6 Tbsp barbecue sauce
Shredded cabbage (optional)
Nutrition
Calories: 293
Fat: 11g
For full preparation instructions see: http://www.womenshealthmag.com/nutrition/barbecue-recipes?page=0
American flag fruit kabobs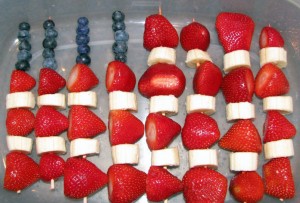 Have fun with your fruit. These fun and patriotic kabobs are easy to make and are a great addition to any barbecue. If you're concerned about your bananas browning throughout the day, consider squeezing lemon juice on the bananas to prevent it. Fruit kabobs are also a great project for the kids to join in on as well.
Ingredients
4 bananas
1 package blue berries
1 package strawberries
Lemon juice
Nutrition
Calories: 130
Fat: 0g
Caesar salad
Too many people make the unfortunate mistake of assuming salad is healthy. A traditional Caesar salad can have over 50g of fat per serving! This lighter version tastes just as good, but is made with a lot less fat and good fats to boot.
Ingredients
4 ounces Italian bread
1 clove garlic, cut in half
Nonstick olive oil cooking spray
1/4 cup light mayonnaise
1/4 cup freshly grated Parmesan cheese
3 tablespoon fresh lemon juice
1 tablespoon olive oil
1 teaspoon anchovy paste
Coarsely ground black pepper
1 package (18-ounce) hearts of romaine lettuce, torn into bite-size pieces
Nutrition
Calories: 140
Fat: 8g
For full preparation instructions see: http://www.goodhousekeeping.com/recipefinder/caesar-salad-healthy-ghk
Twice-baked potatoes
Twice-baked potatoes are notoriously delicious and, unfortunately, notoriously fattening as well. By substituting low-fat cheese and milk and substituting fat-free Greek yogurt for the sour cream, you cut out a ton of the calories, but won't sacrifice the taste.
Ingredients
4 potatoes
2/3 cup plain fat-free Greek yogurt
2/3 cup low-fat cheddar cheese
2/3 cup low-fat milk
2 tablespoon + 2 teaspoon Smart Balance light
1/2 teaspoon salt
1/2 teaspoon pepper
Optional: Green onions, turkey bacon, additional salt or pepper
Nutrition Information
Serving Size: One potato half (serves eight).
Calories: 133
Fat: 2.7g
For full preparation instructions see: http://www.360familynutrition.org/2012/11/low-fat-twice-baked-potatoes-with-greek.html
Deviled eggs
Deviled eggs are a barbecue must, but the mayonnaise tends to add a lot of extra calories and fat. By swapping out the mayonnaise for its low-fat counterpart, you have a healthier version to serve up this summer.
Ingredients
12 large hard-boiled eggs peeled
1/3 cup nonfat cottage cheese
1/4 cup low-fat mayonnaise
3 tablespoons minced fresh chives or scallion greens
1 tablespoon sweet pickle relish
2 teaspoons yellow mustard
1/8 teaspoon salt
Paprika for garnish
Nutrition
Calories: 34
Fat: 2g
For full preparation instructions see: http://www.eatingwell.com/recipes/eatingwell_deviled_eggs.html