By: Jason Lewis
The slogan for the 2013 Reebok CrossFit Games is "The Fittest on Earth." That's no joke, and they're not just talking about the athletes on the field competing at the StubHub Center in Carson, California. The officials are fit, the announcers are fit, the cameramen are fit, the event staff guys are fit. Just about every spectator in the stands is fit. Even the ATLX Channel guy is fit.
CrossFit has brought the fittest people on the planet together for this event, which is pretty much this sport's Olympics. Usually an exposed six pack of abs will turn heads, but here at the CrossFit Games, everybody has them. Everybody has well defined arms. Everybody looks like they can knockout a set of 15 pull-ups with ease, toss huge amounts of weights over their head, and everybody looks like they get in their road work in the morning routinely.
The wide range of age groups adds to the appeal and diversity of the CrossFit competition. One competitor from New York is competing in the women's division age group 55-59. A local nurse, whose day job includes working with children with autism and Multiple Sclerosis, Paula Moore is a nurse by day and a CrossFit competitor by night. And although this is serious competition, she plans to have some fun with it at all. Moore told the Levittown Tribune, "I'm really nervous because this is my first big competition, and it is going to be especially intense with three workous a day," she said. "I just want to come out of it knowing I had a fun time, and to also live up to my own expectations and those of everyone supporting me."
The CrossFit Games have become international. Since CrossFit, Inc. was founded by Greg Glassman in 2000, over 6,000 gyms worldwide have opened out. The very best athletes from those gyms, or boxes as they call them, find their way to the CrossFit Games to battle it out for a $275,000 prize.
The typical athlete has to have a certain set of attributes, which are geared toward their sport. A 100-meter sprinter has to be extremely fast, and strength is an important determinant for that. A distance running has to have the endurance to run at a certain pace for a long period of time. But at the CrossFit games, an athlete has to be good at both of those things, and be able to swim, climb over obstacles, and push and pull heavy weights from a number of different angles. It is a true test of athletic ability across several mediums.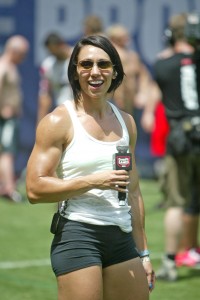 A number of the events at the CrossFit Games were not released to the public, or to the athletes themselves. The athletes find out what the events will be hours before they have to perform. They have to quickly learn how to do it, and then jump right into it, making the challenges even tougher. In a way, skill has been taken out of some of the events. Because the competitors do not get to practice for several months to perfect the movements of the events, they have to rely solely on their athletic abilities.
This competition is fun to watch, and it will make the viewer want to get to the gym as soon as possible.
ESPN has live coverage of the CrossFit Games throughout the weekend, with the games concluding on Sunday. For more information, visit http://games.crossfit.com.