The History
If you have ever have flipped through the channels and came across incredibly buff individuals dragging and lifting automobiles, then you have been informally introduced to American Strongman. ATLX sat down with Dionne Wessel, the president and founder of the Corporation to give our readers a formal introduction to the incredible sport.
Be careful not to mistake American Strongman with weight lifting or body building. While bodybuilders get to lift weights with smooth, easy to hold surfaces, Strongman are lifting rocks, pulling and deadlifting trucks and doing axle presses, among other events.
"It's not the daily grind of going to the gym or just picking up a pair of dumb bells," Wessell said.
For Wessell, Strongman competitions started out as a hobby. When she realized she needed a way to be able to stay at home with her daughter, she decided to make a career out of it, and paid $500 to own North American Strongman, the now amateur federation of current Strongman. At the time, there was somewhat of a professional division but it wasn't clearly defined, and Wessell wanted to change that.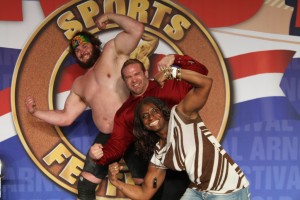 A governing body was necessary to legitimize the sport. "We just felt like you could go anywhere and say I'm a professional athlete, and it watered down the sport," Wessel said. "There was no clear definition of who was who…so people in the crowd were confused as to how anybody could compete in the competition."
In 2004, Wessell developed the professional division where amateurs had to qualify to compete. And now countries around the world refer to American Strongman for consulting purposes on their competitions.
The Competitors
Mike Johnston, a physical therapist by day, joined the team in 2006. The Columbus, Ohio local describes the training of a professional strongman as not just pumping iron in the gym day after day. "Number one, you got to be strong…you got to be explosive…you have to have foot speed." Johnston said.
"From a conditioning standpoint, they have to have great anaerobic endurance. Ninety seconds of go, go, go."
A lot of people assume that these athletes are former football players, but a lot of the athletes come from no sporting background whatsoever. Many of the competitors are doctors, lawyers, blue collar, white collar…all walks of life.
American Strongman boasts something that many other sporting events can't brag about. There is very little performance enhancing drug issues in the American Strongman Competitions, but they do have a system in line with NCAA policy. "We do our very best to have a safety policy for our athletes and make sure they aren't killing themselves." Johnston said. "As far as it being a problem, not like other sports. I think our folks are more out there to have a good time." Johnstone went on to explain that although they are here to have fun, they are still some of the toughest, serious competitors of any sport.
The Competitions
The American Strongman Corporation hosts events throughout the year all over the United States. In June, Indiana hosted the America's Strongest Man Master's with events including a yoke walk, a farmer walk, log press, train wheel dead lift, keg load medley and stones of strength.
American Strongman contests throughout the year include: America's Strongest Man, the Olympia Strongman Challenge, the U.S. Nationals, Pro-Am and Platinum-Plus series. America's Strongest Man Competition will be held in September in Las Vegas, Nev. highlighting the best of the best Professional Strongman Competitors in the U.S.
The Future
One of the goals of the American Strongman Corporation is to promote the functional strength associated with Strongman challenges. Wessel said, "For people that struggle with everyday activities like carrying a 50 pound suitcase, what our athletes do, what we do is functional strength."
The Corporation also looks to incorporate more women and young people into the world of American Strongman. "When you're challenging your body, you're challenging your mind, and a challenged mind creates that much more interest, as opposed to an idol mind," Wessel said. "Someone who just goes home and figures out how to get into trouble. That's one of goals, to get more kids involved, to get more women involved and get more exposure for the sport."
For more information on American Strongman, check out their website here.