By Anna Littles
June 4, 2013
Coach John Wooden once said, "Sports do not build character, they reveal it."
This weekend, June 8th and 9th, the character of 1100 a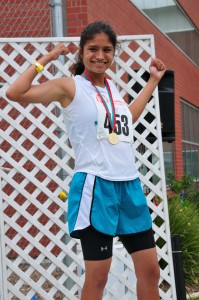 thletes will be tried, tested and revealed as they descend upon the Special Olympics Games in Long Beach, California.  The games are being hosted by the Special Olympics of Southern California (SOSC).
The nonprofit organization's mission is to "empower individuals with intellectual disabilities to become physically fit, productive and respected members of society through sports training and competition."
Eunice Kennedy Shriver founded the Special Olympics in 1963 as a day camp to provide physical fitness and sports to people with intellectual disabilities.  In 1968 she organized the first International Special Olympics Games where a thousand athletes from the United States, Canada and France competed.  Today there are 52 chapters of Special Olympics, which serve three million athletes in 180 countries worldwide.
The Special Olympics chapter in Southern California (SOSC) provides year-round sports training and athletic competition in a variety of Olympic-type sports for children and adults – this is no small feat. When I spoke with Bill Shumard, the President and CEO of SOSC, I could not help but be inspired by the commitment and excitement he has for the mission and vision of SOSC.  When Shumard took the lead, he already had a dynamic background and excellent reputation as part of the business success of the Los Angeles Dodgers Organization.  After 12 years he moved on from the Dodgers to be Athletic Director at USC in 1988, and then the Director of Athletics at Cal State Fullerton in 1991.  He then returned to Cal State to serve as the Executive Director of Athletics, eventually serving five years on the Board of Directors of the Special Olympics Southern California.  When the opportunity opened up for a new President and CEO of SOSC in 2005, Shumard was the perfect fit.
This coming weekend, Cal-State in Long Beach will host the 2013 Special Olympics Games.  The 1100 athletes will be competing in six different sports over two days, with an estimated ten thousand friends, family and supporters cheering them on.
These Special Olympics Games will be a precursor to the World Olympic Games to be held in Los Angeles in 2015.  The World Olympic Games take place every two years in such destinations as Dublin, Ireland (2003), Shanghai, China (2009) and Athens, Greece (2011).
"The 2015 World Games in Southern California will be the first World Olympic Games to take place in the United States this Century," Shumard was quick to point out.
"In 2015, Los Angeles will host over seven thousand Athletes, and 40 thousand spectators from 170 countries; bringing an economic windfall for the city of nearly half a billion dollars!"
For Shumard, it's all about the athletes who will "emulate integrity, courage and perseverance," as they compete for rewards that are far more valuable than Gold and Silver.  These brave young men and women will influence attitudes and perspectives of our culture.  Those with "intellectual disabilities are truly the last under represented segment of our society," Shumard shared.
"These athletes will use sports as a great vehicle to teach, entertain and educate all of us about what is good and right in our world . . . all through the simple power of sports.  When people come out and see the games, they are blown away."
There will be amazing competitions, celebrities and sponsors making this the "IT" event for Los Angelinos. To find out more about the Games, check out their web site at www.sosc.org
For those who can't make it, make sure to watch the games on KTLA. Just check your local listings for the schedule.
Special Olympics of Southern California (SOSC), committed to changing lives and changing the world.  All through the vehicle of sports.