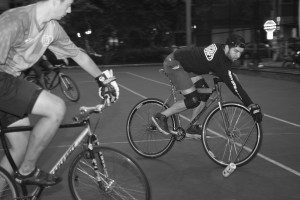 By: Sarah McWilliams
Upon hearing the word Polo, people typically generate thoughts of wealthy, East Coast, Ivy League men on horses. Either that, or 6-foot-5 ripped athletes treading water. What you probably don't visualize is bike messengers on tennis courts with mallets, but perhaps you should. Bike Polo is the latest sport sweeping the nation.
Although at one point, the term sport may have been used loosely, it's turned into quite the competitive play. According to League of Bike Polo, the sport actually has roots in the late 19th century in Ireland, but when bike riding waned, thanks in large part to the invention of the automobile and the first World War, bike polo nearly became extinct.
In the 1990s Bike Polo saw it's rebirth in Seattle through a group of bike messengers casually hitting a ball with a mallet during their off hours. Soon the group was popularized outside of the bike messenger clique and has continued to grow into a global sport.
When Dustin Riggs got involved in Bike Polo in 2007, it was more of a hobby for everyone than true competitive play. After one of his coworkers convinced him to try it, it became a way for him to have a good time and let off some steam after a hard day's work. But, as the sport has grown and become much more competitive, the training and dedication has increased as well.
"Back (in 2007) there were hardly rules at all, more like guidelines for people to follow. It was more like an after-work drinking activity than an organized sport," Dustin told ATLX. "When we traveled to tournaments everyone would stay out late and party together."
The Bike Polo players of today probably wouldn't recognize those players, as the sport has become much more serious.
Fellow teammate and twin brother, Cody Riggs, who at the time lived in San Diego, got involved after visiting Dustin and eventually joined his brother in Seattle. Cody had a background in mountain biking so the skills necessary to play bike polo weren't completely foreign; however, similar to his brother, the fitness aspect of the sport wasn't on the top of his mind.
"Five years ago when I started playing, nobody paid any mind to physical fitness," Cody told ATLX. "In competitive polo today, some people are taking physical fitness to a new level. People are changing their diets, getting in the gym, climbing, running, and all sorts of physical training activities to gain an edge. We play on bigger courts than we used to and tournaments last all weekend, so this definitely helps.
"Many people getting involved in the sport already have a background in cycling, so they have the stamina that comes with a heavy cardio based sport. Upper body strength is also important as you're jockeying for position and coming into contact with other players a lot."
The game typically consists of a 3-on-3 match, although the rules vary somewhat among different countries. Competitors can't put their feet down, and contact is supposed to be limited, although this isn't always possible given close quarters of competition. Although the rules took a while to be formalized, and still vary among clubs and country, the sport is becoming more organized.
"Now we've got an organizing body for North American players, a solid set of rules, better trained refs, and some sponsors thrown into the mix. It's definitely more of a sport now than it was when I started," said Cody.
This year the Riggs brothers will be competing in the North American Hardcourt Bike Polo Championship (NAHBPC) in Minneapolis. The top teams will qualify to compete in the World Hardcourt Bike Polo Championships (WHPBC) later this year in Montpellier, France.
With the widespread growth, Cody and Dustin have both traveled far and wide for competition. Not only have they competed all over the US, but also places such as Berlin, Munich, Paris, Brussels, Geneva, London, Amsterdam and beyond.
These travels have allowed them to see the world and to experience different styles of bike polo, which tend to change throughout different regions in the world.
"The (World Championships) are cool, because polo has evolved differently in different parts of the world. European players have different strategies and style than North American teams," Cody said.
Although the game has the stigma that it's just for hipsters or cyclists, the leagues see all different types of competitors. "The bike polo community is made up of people from all kinds of different backgrounds; teachers, social workers, food industry, doctors, and lawyers," said Dustin.
Both brothers stress that it's a very open and welcoming community for those who are interested in playing and for those who are just interested in watching. In fact, Dustin sees the fan base growing in the next few years.
"Sports in general are supposed to be an exciting form of entertainment. Bike polo has everything from big hits at high speeds to exciting ball handling to huge slap shots. Anyone that is interested in watching competitive sports would enjoy watching a high caliber game of bike polo," said Dustin.
On it's current trajectory Bike Polo should continue to grow throughout the United States and the rest of the world, though it has along road to the mainstream. Still, with the passion of the players, the sport continues to thrive.
"I think in years to come it's going to get pretty big. There's not a whole lot of money in the sport right now, so players are paying their own travel expenses and organizers are taking on quite a bit of financial burden on their own," said Dustin. "More companies are sponsoring events and players with polo equipment and as much cash as they can afford, which is a great start."